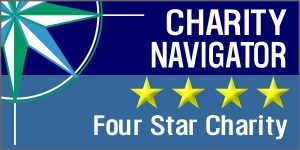 Your financial partnership is essential. Choose from several convenient giving options, including gifts of stock or real estate, one-time or recurring donations through our secure online portal, and legacy support through planned giving. 
INFORMATION FILED WITH THE ATTORNEY GENERAL CONCERNING THIS CHARITABLE SOLICITATION AND THE PERCENTAGE OF CONTRIBUTIONS RECEIVED BY THE CHARITY DURING THE LAST REPORTING PERIOD THAT WERE DEDICATED TO THE CHARITABLE PURPOSE MAY BE OBTAINED FROM THE ATTORNEY GENERAL OF THE STATE OF NEW JERSEY BY CALLING (973) 504-6215 AND IS AVAILABLE ON THE INTERNET AT njconsumeraffairs.gov/charities/Pages/charities-registration-information.aspx. REGISTRATION WITH THE ATTORNEY GENERAL DOES NOT IMPLY ENDORSEMENT.
Gifts of Stock
A charitable gift of appreciated stock provides tax savings by allowing you to avoid capital gains tax you might incur with the sale of stock and may offer you a charitable deduction based on the stock's current value. Contributions to Arm In Arm, a tax-exempt organization under Section 501(c)(3) of the Internal Revenue Code, are deductible to the fullest extent of the law. Gifts of securities received via DTC will be acknowledged using the mean value of the stock on the date it is transferred into Arm In Arm's RBC account. Transfer to: RBC Capital Markets LLC; DTC # 0235; Account Number: 30249400; For credit to Arm In Arm ; Tax ID #: 22-3198464
Planned Giving
Help to secure

Arm In Arm's

future by designating a gift or portion of your estate with a bequest.
Charitable Remainder Trust. You can place assets in a trust that pays annual income to you (or another named beneficiary) for life. After your lifetime or a term of years, the remainder of the trust can be transferred to

Arm In Arm.

Charitable Lead Trust. You can place assets in a trust that pays a fixed amount to

Arm In Arm

for the number of years you select. Once this period ends, the assets held by the trust are transferred to the beneficiaries you name.
Retirement Plan/Life Insurance. You can name

Arm In Arm

as the designated beneficiary of a retirement plan or as the designated beneficiary, or partial beneficiary, of a life insurance policy.
Charitable Planning with your IRA. If you are 70½ or older, and therefore required to withdraw monies from your IRA every year, a provision allows you to redirect your IRA contributions to charitable organizations like

Arm In Arm.

Real Estate – Please contact us to discuss a gift real estate or other property to

Arm In Arm.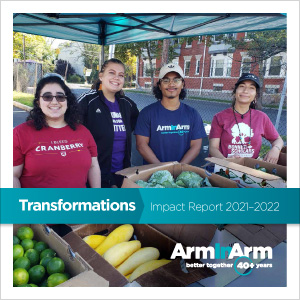 Click on the image to read our 2021-2022 Impact Report
EARLIER ANNUAL REPORTS 2020-2021 2019-2020 2018-2019 2017-2018 2016 2015  2014  2013  2012
AUDITS 2022 , 2021, 2020, 2019 2018 2017 2016  2015  2014 
FORM 990 FY2022 2020 2019 2018 2017 2016  2015  2014
AIA IRS 501(c)3 letter
2017 – 2019 Arm In Arm Strategic Plan
Document Retention and Destruction Policy
Policy for Employee Protection (Whistle Blower) Policy
Financial Statements June 30th, 2020
Financial Statements June 30th, 2021
Conflict of Interest Policy
Donor Privacy Policy
We thank the following organizations for their financial partnership in the last 12 months
Accenture
All Kids Thrive Fund of the Princeton Area Community Foundation
Amalgamated Charitable Foundation
Amazon.com
Anne & Gerald Freedman Charitable Foundation
Axis Capital
Bank of America Charitable Gift Fund
Bank of America Foundation
BlackRock
Bristol-Myers Squibb Company
Battle Against Hunger
Berkshire Bank Foundation
Cedar Grove Fund of the Princeton Area Community Foundation
Church & Dwight
Cogentrix
The College of New Jersey
Comcast
Community Christian Choir
Community Foundation of
New Jersey
Community Park School PTO
The Corella & Bertram F. Bonner Foundation
CSAA Insurance Group
Curtis W. McGraw Foundation
David Mathey Fund of the Princeton Area Community Foundation
Dawn Day Fund of the Princeton Area Community Foundation
Delectabell Management Inc.
Dorothea van Dyke McLane Association
Fidelity Charitable Fund
Fiduciary Charitable Foundation
Ford Foundation Matching Gift Program
Fred C. Rummel Foundation
Census 2020 NJ Counts Fund of the Princeton Area Community Foundation

Fund for Women and Girls of the Princeton Area Community Foundation
The Garden Club of Princeton
Hello Products LLC
Howard Azer & Associates P.A.
I Am Trenton Community Foundation
Investors Foundation, Inc.
James Kerney Foundation
Johnson & Johnson
Junior League of Greater Princeton
Karma Foundation
Lawrence Township Community Foundation
Mary Owen Borden Foundation
Mathematica Policy Research
Microsoft
Munich Reinsurance America
New Jersey Pandemic Relief Fund
NJM Insurance Group
Novo Nordisk Inc.
NRG Global Giving
Opila Abraham Family Foundation
Pfizer Foundation
Philip S. Harper Foundation
PNC Fund of the Princeton Area Community Foundation
Princeton Area Community Foundation Covid 19 Relief and Recovery Fund
Princeton Area Community Foundation / Burke Foundation Legacy Community Impact Census Grant
Princeton Orthopedic Associates, P.A.
R. J. Hutton Charitable Trust
Robert Wood Johnson Foundation President's Grant Fund of the Princeton Area Community Foundation
Prudential Foundation
Rotary Club of Montgomery / Rocky Hill
RSW Foundation
John Ryan Family Foundation
Schwab Charitable Fund

The Snowden Foundation
Stony Brook Garden Club of Princeton
Tenacre Foundation
The Bank of Princeton
The Merancas Foundation, Inc.
The Millhill Foundation
The Rubel Family Foundation
Trenton College Club
Union Seniors Association
United Way of Greater Mercer County
Vanguard Charitable
Walmart Foundation
The Wawa Foundation
USB Donor Advised Fund
Zvilin Fund of the Princeton Area Community Foundation
Abiding Presence Lutheran Church
All Saints Church
Church of St. David the King
Fellowship In Prayer
First Presbyterian Church of Dutch Neck
First Presbyterian Church of Hamilton Square
First Presbyterian Church of Plainsboro
First Presbyterian Church of Trenton
Graceway Presbyterian Church
Hopewell Presbyterian Church
Living Waters Church of the Nazarene
Lutheran Church of the Messiah
Morrisville Presbyterian Church
Nassau Presbyterian Church
Pennington Presbyterian Church
Presbyterian Church of Lawrenceville
Princeton Monthly Meeting of the Religious Society of Friends
Princeton United Methodist Church
St. Paul's Catholic Church
Trinity Church Princeton
Unitarian Universalist Congregation of Princeton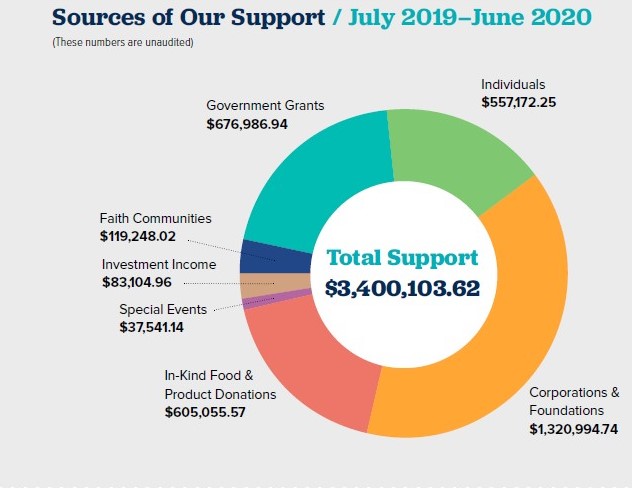 ---
Arm In Arm is a 501 (c) 3 charitable organization serving all who are in need regardless of age, race, gender, religious status, sexual identity, ethnicity, or national origin.
Arm In Arm will not sell, trade, or share any donor's personal information with any other person or organization, nor send donor solicitation mailings or other communications on behalf of any other organization, unless a donor has expressed specific permission to do so.