Your financial partnership is essential. Choose from several convenient giving options, including gifts of stock or real estate, one-time or recurring donations through our secure online portal, and legacy support through planned giving.
Gifts of Stock
A charitable gift of appreciated stock provides tax savings by allowing you to avoid capital gains tax you might incur with the sale of stock and may offer you a charitable deduction based on the stock's current value. Contributions to Arm In Arm, a tax-exempt organization under Section 501(c)(3) of the Internal Revenue Code, are deductible to the fullest extent of the law. Gifts of securities received via DTC will be acknowledged using the mean value of the stock on the date it is transferred into Arm In Arm's RBC account. Transfer to: RBC Capital Markets LLC; DTC # 0235; Account Number: 30249400; For credit to Arm In Arm ; Tax ID #: 22-3198464
Planned Giving
Help to secure

Arm In Arm's

future by designating a gift or portion of your estate with a bequest.
Charitable Remainder Trust. You can place assets in a trust that pays annual income to you (or another named beneficiary) for life. After your lifetime or a term of years, the remainder of the trust can be transferred to

Arm In Arm.

Charitable Lead Trust. You can place assets in a trust that pays a fixed amount to

Arm In Arm

for the number of years you select. Once this period ends, the assets held by the trust are transferred to the beneficiaries you name.
Retirement Plan/Life Insurance. You can name

Arm In Arm

as the designated beneficiary of a retirement plan or as the designated beneficiary, or partial beneficiary, of a life insurance policy.
Charitable Planning with your IRA. If you are 70½ or older, and therefore required to withdraw monies from your IRA every year, a provision allows you to redirect your IRA contributions to charitable organizations like

Arm In Arm.

Real Estate – Please contact us to discuss a gift real estate or other property to

Arm In Arm.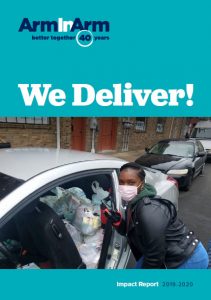 Click on the image to read our 2019-2020 Impact Report
EARLIER ANNUAL REPORTS 2018-2019 2017-2018 2016 2015  2014  2013  2012
AUDITS 2019 2018 2017 2016  2015  2014 
FORM 990 2019 2018 2017 2016  2015  2014
AIA IRS 501(c)3 letter
2017 – 2019 Arm In Arm Strategic Plan
Document Retention and Destruction Policy
Policy for Employee Protection (Whistle Blower) Policy
Financial Statements June 30th 2017
Conflict of Interest Policy
Donor Privacy Policy
We thank the following organizations for their financial partnership in the last 12 months
AAA
Abiding Presence Lutheran Church
Accenture
Ajax Management
All Saints Church
American Legion Princeton Post 76
America's Grow-A-Row
Aqueren LLC
Battle Against Hunger
Bentley Community Services
Berkshire Bank Foundation
BlackRock
Borden Perlman
Bristol-Myers Squibb
Capitol Copy Service
Church & Dwight
Church of St. David the King
Christ Congregation
City of Trenton
Cogentrix
Community Park Elementary School
Corella & Bertram F. Bonner Foundation
County of Mercer
Covenant Presbyterian Church
Cranbury Elementary School
CSAA Insurance Group
Curtis McGraw Foundation
Dartmouth Club of Princeton
David Mathey Foundation
Delectabell Management Inc.
Deluxe Dentistry
Dorothea Van Dyke McLane Association
Ewing Presbyterian Church
Farmers Against Hunger
Federal Emergency Management Association
First Baptist Church of Princeton
First Baptist Church of Trenton
First Pres. Church of Dutch Neck
First Pres. Church of Hamilton Square
First Pres. Church of Plainsboro
GE Foundation
Highland-Mills Foundation
Hiltons Princeton
Hopewell Council of Churches
Hopewell Presbyterian Church
Howard Azer & Associates P.A.
I Am Trenton Community Foundation

Inter-Networx, LLC
Investors Foundation
James Kerney Foundation
Janssen
Jersey College
Jewish Community Foundation
John Witherspoon Middle School
Johnson & Johnson
Honey Perkins Family Foundation
Johnson Park Elementary School
Karma Foundation
Kingston Presbyterian Church
Klatzkin & Co
Labyrinth Books
Lawrence Road Presbyterian Church
Lawrenceville School Big Red Farm
Littlebrook Elementary School
Lutheran Church of the Messiah
Mary Owen Borden Memorial Foundation
Mathematica Policy Research
McCaffrey's Markets
McMaster Carr
Microsoft
Munich Reinsurance
Nassau Christian Center
Nassau Presbyterian Church*
News Corp.
Nick Hilton Princeton
NJM Insurance Group
Novartis Corp.
Novo Nordisk Inc.
Panera Bread
Pennington Presbyterian Church
Pennington School
Penrose Management
Plainsboro Presbyterian Church
PNC Foundation
Presbyterian Church of Lawrenceville
Prince of Peace Lutheran Church
Princeton Area Community Foundation
Princeton Creative Marketing
Princeton Day School
Princeton High School

Princeton Medical Group
Princeton Monthly Meeting
Princeton United Methodist Church
Princeton University
Progressive Insurance Foundation
Prudential Foundation
Remex, Inc.
Rita Allen Foundation
Riverside Elementary School
Robert Wood Johnson Foundation
Rotary Club of Montgomery/Rocky Hill
Rotary Club of Princeton
RSW Foundation
Rubel Family Foundation
So Percussion
St. Matthew's Episcopal Church
St. Paul's Catholic Church
Surrey Capital Partners
S&P Global Foundation
Tenacre Foundation
The College of New Jersey
The Ford Foundation
The Fred C. Rummel Foundation
The Jewish Center of Princeton
The Merancas Foundation Inc.
The Wawa Foundation
Township of Hamilton
Trenton Health Team
Trenton Meeting of Friends
Trinity Church*
Trinity Episcopal Church of Rocky Hill
Unitarian Universalist Congregation of Princeton
United Way of Greater Mercer County
Vanguard
Weichert Realtors
West Windsor Lions Club
Whole Foods Market
Windsor-Hightstown Area Ministerium
Yes We CAN! Food Drives
Yoga Sangetha
Your Part-Time Controller
Zonta Club of Trenton/Mercer
*Founding Congregations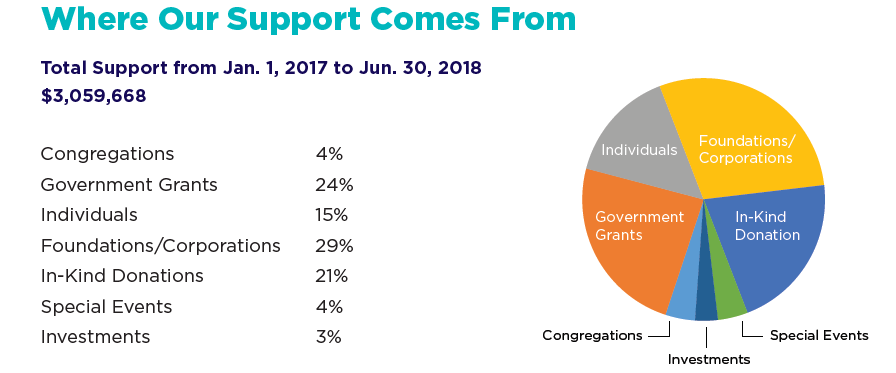 ---
Arm In Arm will not sell, trade, or share any donor's personal information with any other person or organization, nor send donor solicitation mailings or other communications on behalf of any other organization, unless a donor has expressed specific permission to do so.