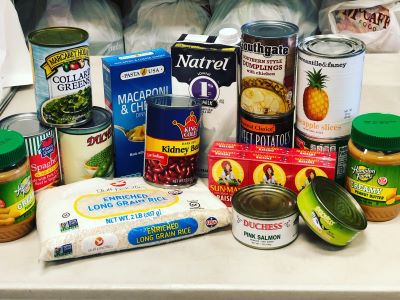 I Need Food Assistance
Arm in Arm serves clients through pick-up at our multiple pantry locations in Trenton and Princeton, including our mobile pantries services throughout Trenton. We also offer home delivery services to select locations and to community members who are home-bound or immuno-compromised. Please contact Alana Moonsammy at alanam@arminarm.org for an inquiry about home food deliveries. 
Where  and when can I find food assistance? 
48 Hudson Street, Trenton NJ 
Monday and Wednesday : 9:30AM to 12PM 
61 Nassau Street, Princeton NJ 
Monday and Wednesday : 11 AM to 4 PM 
Tuesday: 1 PM to 7 PM
Mobile Food Pantry
127 Academy Street (across from Trenton Public Library)
Tuesdays and Thursdays 9:30 AM to 12 PM
Please check back for more locations throughout Trenton! 
Who We Serve 
Many Mercer County neighbors turn to 

Arm In Arm's 

Hunger Prevention program for support in difficult times. When faced with food insecurity, low-income people from up to 5,000  households are served through our food pantries and mobile pantry each month.

Teams of volunteers deliver food to the homes of 150 elderly and house bound people in Trenton and Princeton each month.

40 percent of the people helped in our Hunger Prevention program are 17 and under; 25 percent are age 55 and above.
What We Provide
Healthy Food – Together, our food pantries average 4,000 shopping visits each month. The variety of heart-healthy food filling our shelves and refrigerators includes fresh produce, eggs and milk, frozen proteins, quality baked goods, and prepared foods such as yogurts, salads and soups, and many shelf-stable canned and boxed food. Personal care products such as shampoo, soap, toothpaste and toothbrushes, diapers, and deodorant are often available.
Healthy Living & Nutrition Education — linking better nutrition with improved health through:
Hands-on learning opportunities for children's groups

Distribution of budget-focused cookbooks for our senior customers

On-site healthy cooking demonstrations and tastings

Visits from nutrition educators from Rutgers Extension Services
Community Garden Produce —Dedicated volunteers cultivate and harvest fresh produce in our Hanover Garden in downtown Trenton. All produce grown in our garden is harvested and distributed in our pantry. We grow tomatoes, peppers, eggplant, kale, collard and mustard greens, cucumbers, squash, herbs, and more.
Home Food Delivery — We deliver food once a month to homebound seniors and adults with disabilities.
Referrals for Home Food Delivery 
https://arminarm.org/home-food-delivery/(opens in a new tab)
*We want to thank our many community partners for helping us to provide an empowering shopping experience.
Mercer Street Friends Food Bank, the Community Food Bank of New Jersey, Farmers Against Hunger, Yes We CAN! Food Drives, West Windsor Farmers Market, McCaffrey's, Whole Foods Market, Panera Bread, ShopRite, Italian People's Bakery, and other local supermarkets, restaurants, bakeries, farms, and community-based vegetable gardens such as those at the Peace Garden at Prince of Peace Lutheran Church. Generous institutional support comes from Northfield Bank Foundation, Corella and Bertram Bonner Foundation,  John Ben Snow Memorial Trust, George Ohl Trust, Johnson & Johnson, Starbucks Community Grants, Lawrence Township Community Foundation, Novo Nordisk, Church & Dwight Co., Janssen Pharmaceuticals, and Bristol-Myers Squibb.