Join us in serving the community for ONE DAY and make a lasting impact for neighbors in need.
Our ONE DAY volunteer program provides a unique opportunity for you and your colleagues or group to give back by volunteering, helping us to prepare and distribute food and groceries:
·        At our food pantry in Trenton –Assist with food distribution from our food pantry for 250+ community members!
·        At a Mobile Pantry event in the community- Experience serving directly to 150+ community members outdoors!
·        At a Free Fresh Produce Market- Help us distribute fresh produce for 100+ families!  
·        And/or at our distribution hub in Hamilton Township- On average 60 bags packed in 2 hours can help feed 60 families!
The Arm In Arm volunteer experience promises to strengthen team bonds, while reinforcing corporate responsibility and the impact your company or group can have by working together to provide for our community.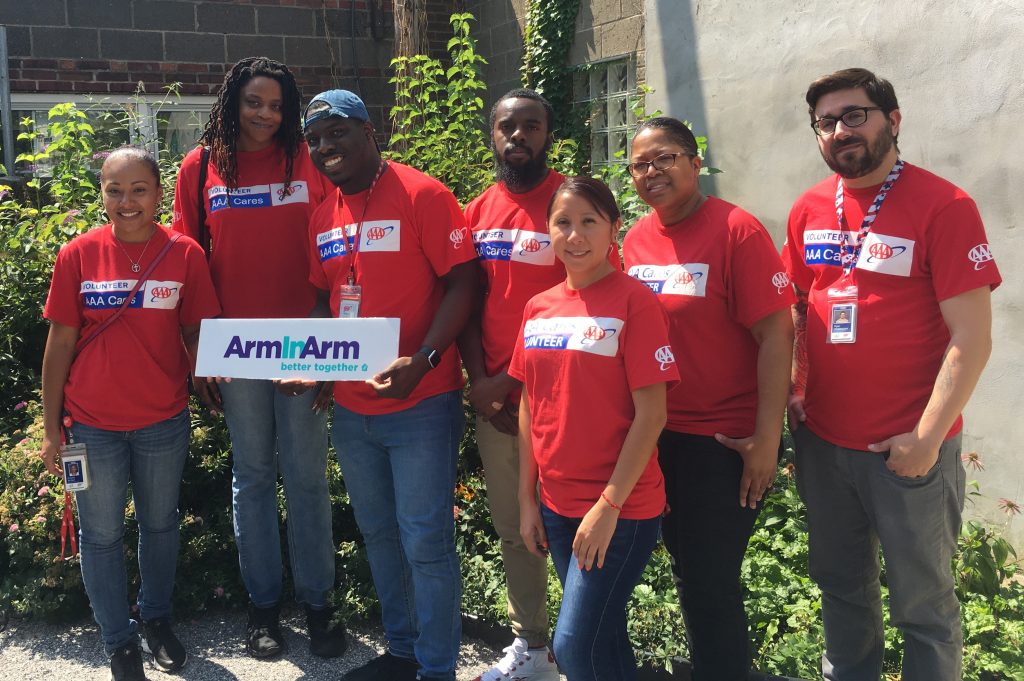 "Our employees return from the pantry with big smiles and an excitement that puts the entire office in a great mood. Colleagues from different departments are able to build relationships that benefit both themselves and our clients."
—Angie McNeil, CSAA Insurance Group
How do I schedule my ONE DAY evet?
Contact Shariq Marshall at shariqm@arminarm.org, 609-396-9355, x21, and he will work with you to schedule a mutually agreeable date.
How else can our corporation/group help?
If your company/group would like to sponsor your ONE DAY event, by providing resources for food purchase, or for our Mobile Pantry, we have sponsorships available beginning at $2,500. Every $2,500 helps to feed 50 families. We can share your company name/logo and photos on social media, our website and in various printed materials;
Have a company or group food drive in conjunction with your ONE DAY event and involve company members who are unable to volunteer that day, or those who would like to do more. We can even schedule our truck to pick up the food;
If your company has a matching gift program, encourage volunteers to make a gift and have it matched by the company;
Does your company have a foundation and offer the opportunity to apply for grants? Please connect us by contacting maureenh@arminarm.org. 
Every volunteer hour and gift makes a difference so please consider supporting us in the future, volunteering on your own, and introducing us to others.

To learn more about our volunteer opportunities please click here.  
If you would like to make a donation please click here.  
We hope that ONE DAY turns into a partnership that spans MANY DAYS, MANY WEEKS, and MANY YEARS.