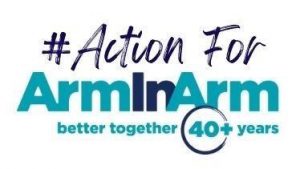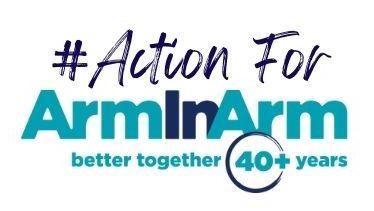 Join Arm In Arm and help make a difference in the community. To honor #GivingTuesday and #GivingTRENTON we challenge you to take #ActionForArminArm to help us fight food insecurity for our community by helping us provide and distribute food to more families this holiday season. Every action you take– whether it be volunteering your time, donating resources, or organizing a drive– makes a difference for our neighbors in need. Help us 
Log

1,500

Volunteer Hours 

Collect

35,000 lbs

of food to feed 2,500 families 

Raise

$60,000

to help us provide and distribute food to 2,000 families
Thank you! We ARE Better Together! Happy holidays!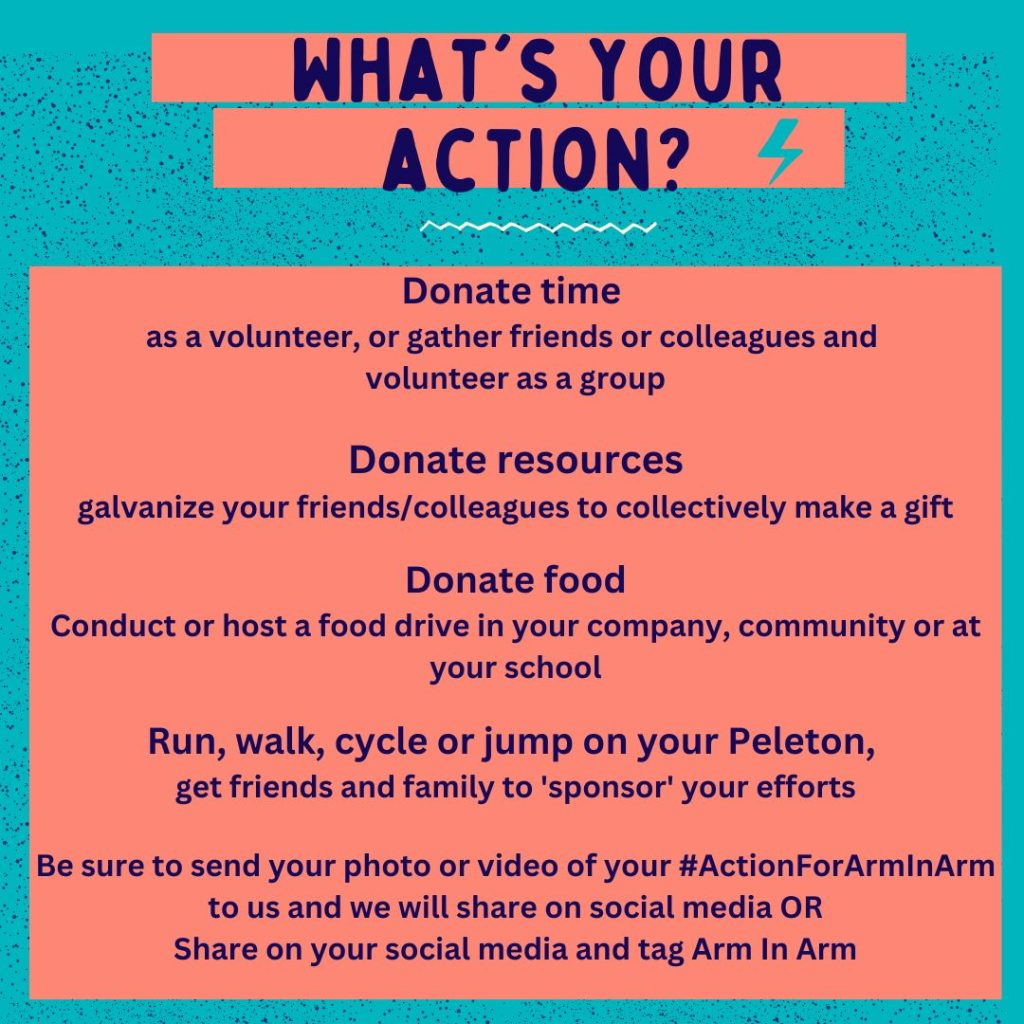 Give Resources
Donations

Make a donation to support Arm In Arm this holiday season. To donate food, click here to download our flyer of items suggested for Thanksgiving donations. Donations can be dropped off at our Trenton and Princeton locations during hours of operation. To make a monetary donation, click here. To find out when donations can be dropped off and items that are not accepted as donations click here 

Giving Tuesday
#GivingTuesday is a global movement that encourages generosity and persuades people to give, whether that be their time, donation, kindness, or a helping hand. It was created in 2012 and is on November 28th.  Please help us as we count down the days to #GivingTuesday by taking Action for Arm in Arm!

Giving Trenton

#GivingTRENTON campaign was launched in 2020 and began recognizing December 1st as a more local version of Giving Tuesday. This campaign urges donors and volunteers to help support non-profit organizations in Trenton as a way to help out in the community. Not only does #GivingTRENTON encourage generosity but it is an opportunity to recognize and support non-profits in your community. Help us honor #GivingTRENTON by taking #ActionforArminArm. 
Give Time
Volunteering 

As the holidays approach we are always looking for more helping hands in our pantries. Our Trenton location 48 Hudson Street is looking for volunteers from 9 AM to 12 PM during Monday to Wednesday. Our Princeton location is looking for volunteers from 1:30 PM to 4 PM on Mondays and Wednesdays and 1:30 PM to 7 PM on Tuesdays. Our Mobile Pantry is looking for volunteers Tuesday and Thursday from 9 AM to 12 PM. We are always welcoming groups to sign up at all our pantries including Mill One. 

Pantry volunteers may bag groceries for distribution, unload and shelve donations, package groceries for our home delivery program, or if needed, deliver groceries to our mobility challenged and older neighbors. If you are interested, please click here to sign up to volunteer for a shift or contact our volunteer coordinator, Shariq, at Shariqm@arminarm.org if you have any questions or would like to schedule a group. 
Give Food
Food/Personal Care Drives 

The holidays are especially challenging for the families we serve. Help ease their burden and keep food on their tables by organizing a food or personal care item drive. Help Arm In Arm serve more people while adding variety for our customers and is particularly needed during the holidays. Please remember to check the expiration dates before donating your items and NO glass items. To organize a food, personal care, or household products drive, please email Shariq Marshall at Shariqm@arminarm.org.  
Click here to find items suggested for a food drive
Click here to find items suggested for a personal care drive
 

Give Healthy Online Food Drive

Your organization can sponsor their own #GiveHealthy drive to help support Arm in Arm and provide people in our communities with fresh, healthy foods. A Give Healthy drive reduces food insecurity while providing people access to healthier foods and leading to healthier people. The #GiveHeathy Digital Food Drive works by allowing people to select fresh food items, such as fruits and vegetables, via a standard e-commerce transaction for donation. Once a drive is over those foods selected will get delivered to Arm in Arm and will be distributed among the community to allow people to have access to fresh, healthy foods! To learn more or to set up your own Give Healthy drive please click here.  

Give Creatively and help Clients in other Ways

We often have community members in need of holiday gifts or specialty items for their children, and/or gift cards to help support their families during the holidays. If you have an idea of another way you can help, or to learn more about these options, please contact our Chief development Officer, Maureen, at maureenh@arminarm.org.  
Frequently Asked Questions for the Holidays 
Where and when can I drop off my donation?
Donations can be dropped off at either one of our Trenton locations or our Princeton location during hours of operation. 
48 Hudson Street, Trenton 08608
Monday to Thursday: 9 AM to 1 PM
61 Nassau Street, Princeton 08542
Monday & Wednesday 11AM to 4 PM

Tuesday 1:30 PM to 7PM 

 
Can my donated food be picked up?
We may be able to arrange for our driver to pick up larger quantity donations (25 to 30+ grocery bags or boxes). If this is needed please contact Cecilia at ceciliaa@arminarm.org. 
Does Arm in Arm accept frozen turkeys?
A limited number of frozen turkeys are accepted during pantry hours of operation, however please give pantry locations a 24 hour notice as we are limited on freezer space. To be dropped off at the Trenton locations please contact Alana at alanam@arminarm.org and for the Princeton location please contact Leticia at leticiah@arminarm.org.
Is there a deadline date for delivering Thanksgiving donations?
Donations are recommended to be dropped off by Thursday November 10th in order to give clients enough time to prepare for their Thanksgiving dinner, but will still be accepted afterwards.
What COVID restrictions is Arm in Arm adhering to?
We strive to keep volunteers and staff safe and have masks and gloves available if you wish. We follow CDC recommendations with regards to COVID protocols. 
Where do my donations go to?
Donated food will be distributed to community members at our Princeton pantry, our Trenton pantry and at Mobile Food Pantry distributions throughout the community.
Does Arm in Arm accept gift cards as a donation?
Gift cards are welcome from Walmart, Shoprite, and Food Bizzare in denominations of $25 and under to help reach more people. We also provide Visa/Amex gift cards in larger denominations to some of our Housing Stability Clients at the holidays. Please contact Maureen Hunt at maureenh@arminarm.org if you are interested in helping with this. 
Does Arm in Arm accept baby products as donations? (pampers, formula, etc.)
Arm in Arm accepts pampers, formula, wipes, and baby food. However, we do not accept baby clothes.
Does Arm in Arm accept children's presents (toys) for the Holiday's as donations?
Due to limited storage space we are not able to accept toy donations, however if you are interested in purchasing new items as holiday gifts for children, please contact Maureen Hunt at maureenh@arminarm.org.
Does Arm in Arm accept furniture?
Due to limited storage space we are not able to accept furniture.
Does Arm in Arm accept clothes?
Due to limited storage space we are not able to accept clothes. If you have new clothing or coats, please reach out to Maureenh@arminarm.org as we may be able to use for some of our community members.