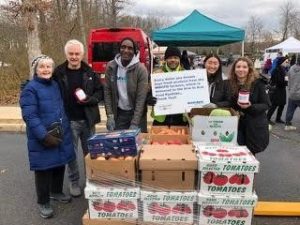 In 2009, the West Windsor Community Farmers Market and Yes We CAN! began a journey to bring fresh vegetables to our neighbors in Trenton and Princeton, while supporting the farmers at the WWCFM.  The formula remains simple: visitors to the market make cash donations to the Yes We CAN! volunteers and we then purchase produce directly from the farmers.   As the Market closes, the van from Arm In Arm arrives to collect the produce, and brings it to the Trenton and Princeton Pantries, where it is given to our neighbors on Monday morning. In 2022, Yes We CAN! donated 38,711 pounds of food to Arm In Arm Food Pantries in Trenton and Princeton.
Chris Cirkus, the Manager of the WWCFM, and her team, have been tireless advocates for our work.  The sense of community that the WWCFM team creates each Saturday, allows for Yes We CAN! to do good work for our neighbors who simply need help at this point in their lives.  By giving our neighbors healthy food, along with protein and shelf-sustainable items, Arm In Arm and Yes We CAN! are easing their daily lives and giving them a bit of hope along with dignity and respect.  Yes We CAN! has also become a drop-off spot for shelf-sustainable food as well as books, coats, hats, and gloves.
If you haven't been to the WWCFM, in the Princeton Junction Train Station Parking Lot (https://www.westwindsorfarmersmarket.org), please visit!  Check the website for the Market's schedule. The Market is a joyful and purposeful place, filled with farmers, and vendors whose life's work is steeped in providing good food, flowers, and other artisan items.   Each Saturday, connections are made between children, adults, the Girl Scouts, dogs, and the farmers and vendors.  During the warmer months, there is music, children dancing, people spotting old friends and making new ones.  The WWCFM is a community event for all!  The Market was voted as New Jersey's favorite and ranked fourth nationally in the 2022 American Farmland Trust annual Farmers Market Celebration.
As we begin our 14th year at the WWCFM, Yes We CAN! and Arm In Arm want to extend a heartfelt thank you to Chris Cirkus, the WWCFM team and the visitors to the West Windsor Community Farmers Market.  We are humbled by the work we do for our neighbors in Princeton and Trenton, and we celebrate the WWCFM community who enable and join us in our work.
On behalf of all the Yes We CAN! Volunteers and the Arm In Arm Staff,
Sincerely,
David R. Fox
Arm In Arm Executive Director
Kim Kyte, Susan Greene, Alison Politziner
Yes We CAN! Co-Chairs