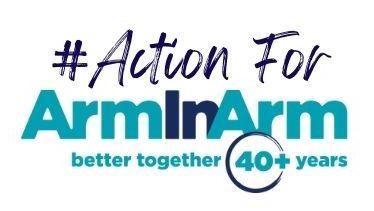 Thank you to each and everyone of you that has participated in Action for Arm in Arm! Thanks to you guys we were able to:
Raise $55,000
Collect

30,000 lbs

of groceries
Log

1,100 hours

of volunteering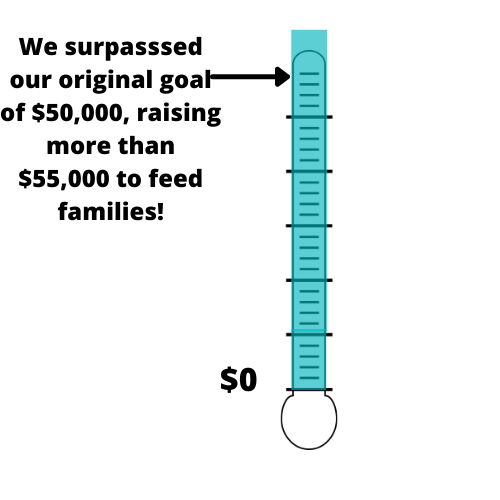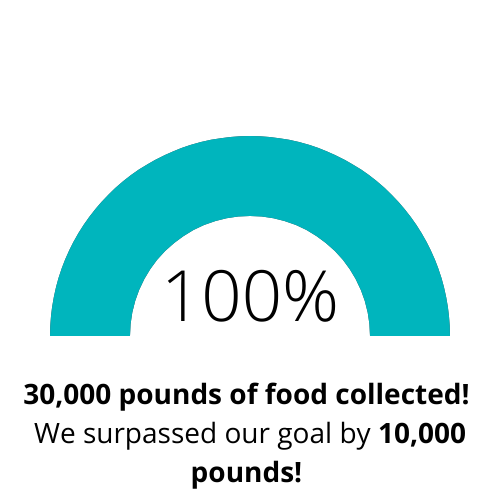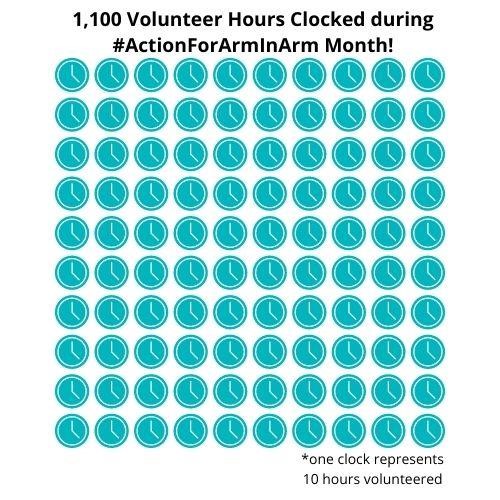 Below is a note from our executive director, David R. Fox:
Dear Friend,
From all of us at Arm In Arm, thank you! We are absolutely overwhelmed and so grateful for your support of our inaugural #ActionForArmInArm Campaign that culminated with Giving Tuesday.
You hosted food drives, made donations, walked, ran, cycled, volunteered, and challenged others to make a difference! Thanks to YOU, we exceeded our goals and because of YOU we were able to provide food for families through more than 4,300 pantry visits/deliveries last month.
Arm In Arm is serving more people than ever before and we expect this trend to continue for the foreseeable future. Your support and partnership is critical to our ability to meet this tremendous need, especially during these uncertain times.
We ARE better together, and your efforts last month truly demonstrated this. Thank you!
Sincerely,
David R. Fox
Executive Director
Thank you to those that participated in #ActionforArminArm by making a monetary donation, organizing their very own food drive, and volunteering their time in on of our pantries! We are better TOGETHER!
Terry Adams
Bernard and Jeanne Adler
Mia Manzulli and John
Marion Alberty
All Saints
Gary and Terry Alnor
Alpha Delta Nu Epsilon Nursing Honor Society at Mercer County Community College
Amazon Smile
Nancy Amidon

Thanks to Princeton Community Church Food drive for donating 355.5 lbs worth of assorted groceries!

Alexis Andres
Rika and Bruce Aoki
Virginia August and Brian Zack
Venice Aviso
Keira Aukamp
Axis Capital Group
Kristina Baktis
Grayson Barber & Peter Meyers
Catherine Elaine and William Barger
Eric and Holley Barreto
Cathy Schaeder Batterman
Gemma Bertelsen
Kimberly Bialiy
Clifton and Harriet Black
BlackRock

An NJM representative dropping off donations with the help of our Executive Director, David Fox.

Stefan Boshkov
Sally Brazil
Bristol-Myers Squibb
Brophy Family
Dulcie Bull
Patricia Butcher
Alexa Cain
Olivia Cao and friend Ian
Carolyn Jane Scott Charitable Trust
Cathleen Carroll
Kathleen Cassidy
Karen Chapman
Nikita Chaubal
Hyun Choi
Cigna
Karl and Masae Clark

The Brophy family volunteering at our Hudson pantry.

Adrian and Meghan Colarusso
Community Foundation for Greater Atlanta
Connecting with Humanity
Joseph Contardo
Corella & Bertram F. Bonner Foundation
Lynn Cully
Jixin Dai
Sam and Shannon Daley-Harris
Pastor Dave Davis
Miriam and Philip McMillan
Mary Dierdorff
Riley Edwards
Mark and Nila Eisenach
Joanne Epply-Schmidt
Pamela and Thomas Epenshade
Janet Estes
Leslie Fabello
Frank Fagundus
Farmers Against Hunger
Gemma Farrell
Mark and Katharine Farrell
Alexis Feder
First Church of Christ Scientist
First Presbyterian Church
First Presbyterian Church of Trenton
Philip and Jennifer Flynn
Melissa Freedman
Dorothy French
Gareth and Cynthia Funka-Lea
Donna and David Gabai
Janet Gaudino
Elizabeth and Kein Gift

TCNJ first year volunteers at our Hudson pantry.

Donald Gilpin
Jonathan and Suzanne Glenn
Linda Gochfeld
Bruce Goldsmith
Courtney Golisano
Maura Graber
Graceway Presbyterian Church
Stephanie and Bill Gray
Susan Greene
Thomas and Judith Gregory
Alice Haines
Melissa and Robert Hamilton
Lydia Hamilton
Tracy & Gary Hansen
William and Barbara Happer
Edward Harris

1,660 lbs worth of fresh produce from Jeff's Organic Farms thanks to Yes We CAN!

Carolyn Hart
Charles Heaps
Ellen Heath
Laura and Steve Heil
Stuart and Jane Henderson
Alan and Catherine Hendry
Nancy and Rick Henkel
Patricia Hennigan
HFD
Jennifer Holloway

Princeton United Methodist Church Food Drive.

Phil and Caroline Holzer
Honey Perkins Family Foundation, Inc.
Heather Howard
Christine Hugick
Michelle Hunt
I Support The Girls
IAH
ICapital Network
Gretchen Jaeckel
Peter and Krysia Jaffe
Karen Janitz
Jeff's Organics
Johnson & Johnson
Denalerie Johnson-Faniel
Landon and Sarah Jones
Junior League of Greater Princeton
Stephen and Nancy Jusick
Karl Karmas
Virgina Kerr
Khufu Court #118
Paul Knight & Jennifer Guy
Misty Knight
Steven and Jessica Knowlton
Liz and Jamie Koehler
Lois Kotkoskie
Jennifer and Brett Lacki-Borowski
Andrew Langan
Sara Lashbrook

Rider University donated 339 lbs worth of assorted groceries.

Jacquelyn Lauria
Judy Leopold
Suzanne and Leon Rosenson
Robin Levinson
Meagan Levinson
Nancy Lifland
Nancy Lin
Amanda Lin
Darice Liu
Mary Lott
Debra Loupos
Terry Lyons
Jennifer Mahan
Alan Mallach
Marykate Maloney
James Maloney
Sanjay Mandloi
John and Mia Manzulli-Ajemian
Bruce and Angela McGlynn
Ryan Mckee
Philip McMillan
Robert Meola
Mercer Street Friends
Kim Millar
Carol Miller

Rider Bonners with the Rider donations.

Christine Minerva
Marc and Susanna Monseau
Elizabeth Morgan
Donna Morgan
Emily Morgan
Jill Morrison
Morven
Jordan Moses
Michael and Julie Nachamkin
Jacquelin Nanry
Nassau Presbyterian Church
Amanda Lin and Nathan Thomas
Elaine and Avadhesh Nigam
NJEDA
NJM Insurance Group
Richard and Lolly O'Brien
Elizabeth and Thomas O'Connor
Carol Olivieri
Over the Rainbow
Kath Pace
David and Beth Parker
Loretta Parker
Pennington School Prep
Janet Perkins
Christine Petrane
Gerry Piere
Susan Pillet

TCNJ first year volunteers at our Hanover pantry.

Present Day Club
Princeton Area Community Foundation
Princeton Friends School
Princeton Police Deptartment
Princeton United Methodist Church
Princeton University Recreation Department
Nancy and Chris Pullen
Rosalind and Gerald Reisner
Renaissance Charitable Foundation
Thomas Rice
Rider University
Rider Bonners
Riverside Elementary School
Debbie Roberts
Megan Rose
George and Barbara Rovnyak
Gary S
Katharine Helmar Sakenfeld
Michael Salita
Gregory and Elizabeth Samios
Robert Sandberg
Jeff Sanders
Jeffrey Sands
Lorraine Sarhage
Trish Scalese
Robert Schapire
John
Share My Meals
Philip and Deborah Shuman
St. Pauls Church
Nathan and Janel Stucky
Eunjoo Suk
Kathryn Sutton
Cecily Swanson

Axis Capital volunteers at our Hudson location.

Helen Szathmary
TCNJ First Year Students
Marie-Diane Tenney
The Bank of Princeton
The Burke Foundation
The Network
Gordon and Deborah Thomas
Robert Thornton
Martin Timins
Deb Toppmeyer and Robert Hilkert
Thomas Edison Church
Trinity Church Princeton
Trinity Church Tiger Trot
Truist Foundation
Phil Unetic
Maureen McCormick
Unitarian Universalist Church Princeton
United Methodist Church
United Way of Greater Mercer County
Universal Life Outreach Ministries Trenton & Nehemiah Ministries Newark
Joan Valcin
Vanguard
Leslie Virnelson
Christina and Mike Waldne

Barbara Mosquera from Weichert Realtors with Thanksgiving donations.

Joyce MacKichan and J. Michael Walker
Matthew and Suki Wasserman Suki
Carol Wehrheim
Weichert
Elizabeth Weinreb
Judith Ziegler
West Windsor Farmers Market
Where Music Carries Us
Elizabeth White
Whole Foods
Louise & Cliff Wilson
Robin M Wolf
Pearl Wong
Eberhard and Shahla Wunderlich
Yes We CAN!
Lee & Wesley Yonish
Donna Young
David and Suzanne Ziegler
Ronald and Sallye Zink
Diane Zompa
Wade
*Thank you again to everyone that participated in #ActionforArminArm! We apologize if we missed your name! We are very grateful to EVERYONE that has helped us and took ACTION! You have made this campaign a great success and allowed us to honor #GivingTuesday and #GIVINGTrenton.