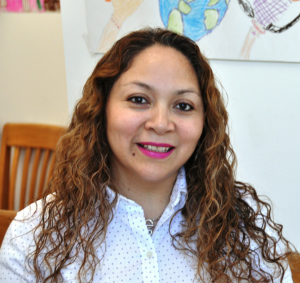 I am pleased to announce that Cecilia Avila has become Arm In Arm's new Director of Hunger Prevention.
A wise man once said that "a healthy body replicates its cells." This is true not only of healthy bodies but healthy organizations. The promotion of Cecilia is a direct consequence of the healthy Hunger Prevention Program developed under Margaret Cowell's leadership. Margaret faithfully served the Arm In Arm community for more than 16 years (click here to learn more about Margaret's 16 years of service). As she leaves Arm In Arm to serve another impactful agency helping people in Mercer County, we are confident that Cecilia will continue this great legacy of service, taking all she learned from Margaret's leadership, while also bringing her own set of unique gifts, experiences and achievements.
Before the pandemic in March, 2020, Cecilia served as Coordinator of both the Hanover and Princeton pantries, starting at Hanover in the morning and driving to Princeton to supervise the delivery of food in the afternoon and evenings.
When Arm In Arm had to redevelop our mode of delivery and greatly expand our level of service, Cecilia graciously took over sole coordination of the Princeton pantry, working closely with Nassau Presbyterian Church leadership to redevelop the way clients in Princeton came for food. In the beginning, Princeton moved, as did Trenton, to a 100% mobile model, and Cecilia pioneered Grab N' Go's and door to door deliveries to make sure that no family in need would be left unserved.
When the Princeton Pantry reopened, Cecilia organized a safe and equitable system of delivering food by appointment in pre-bagged quantities inside of the Church but outside of the pantry area, and she worked with the Church to obtain an extra room for the delivery and packaging of fresh produce.
Throughout all of this, Cecilia has developed a wonderful and highly effective group of staff and volunteers in Princeton, while also serving on the Housing Stability Team to help Princeton and Trenton families—especially those who need help translating our services into a language they can understand—to avoid eviction and find long term sustainable housing.
I have experienced the work first hand and seen the records in Princeton and can attest that Cecilia runs a compassionate but tight ship.
Over the past couple of years, Cecilia has coordinated classes helping families with issues of financial literacy and nutrition. As if this was not enough, recently Cecilia has started a Still Standing class for Spanish speaking single mothers, and has six women in the program.
Throughout the pandemic and up to this moment, Cecilia has represented Arm In Arm for the Hunger Prevention Task Force in Princeton and at many functions, while doing interviews and appearances in Arm In Arm videos and media. She has proven an articulate and impassioned advocate for the people we serve.
I have also found Cecilia to be quite creative in thinking of the best ways to help people. Quite simply, whatever the challenges, Cecilia makes it happen, often working hard and long hours personally to do so.
On my first day at Arm In Arm, Cecilia showed me how staff and volunteers are to work in the pantry. She said, "The first thing we need to learn, David, is that is our blessing to serve these families."
With such a comprehensive understanding of so many facets of Arm In Arm, and as a diligent, dependable and incredibly hardworking person who understands and embodies the best in our Mission, Cecilia is the perfect person to serve as the Director of our Hunger Prevention program at such a pivotal time in our history, with the launch of our new Mobile Food Distribution Center at Mill One.
Please join me in congratulating and welcoming Cecilia to this new role, and thank you for your continued support of our work!
Sincerely,

David R. Fox, Ph.D., M.Div.
Executive Director