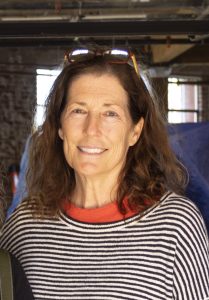 After 16 years of faithful and prolific service, Arm In Arm's Director of Operations, Margaret Cowell is leaving Arm In Arm to serve another impactful agency helping people in Mercer County.
During her lengthy tenure at Arm In Arm, Margaret faithfully served our community for over a third of Arm In Arm's history.  She has seen Arm In Arm move 5 times. As a person with deep roots in Trenton, Margaret brought a passion for Trenton residents that has led to Arm In Arm's efforts to do more and to do things better for more people throughout Mercer County. She  has a prophetic sense of justice and equity, and heartfelt compassion, which has guided not only what we do, but how we do it.
In the food pantry arena, Margaret may have helped distribute more food to more people than anyone else in Mercer County, perhaps over a quarter million food deliveries, which each has fed about 3 people. In the past few years, during pandemic realities, Margaret has helped Arm In Arm change the way we deliver food during the most critical and dangerous times of our generation, being faithfully present and leading by example as we continued serving food to people in crisis, while doubling the amount we are serving.
Margaret has a passion to help people find employment, especially those who need it the most. She has overseen different versions of our Workforce Development Program and initiated our License to Succeed program, which together have helped hundreds of Mercer residents find employment.
Directing the All Kids Thrive program, Margaret has helped many Trenton families and students, many of whom depend upon Arm In Arm for life-changing support in the most critical moments of their lives.
Margaret has recruited, hired, supervised and promoted so many Arm In Arm Staff. Through them, Margaret's work at Arm In Arm will continue and grow. She has also been a great colleague for fellow directors, pitching in wherever needed, offering support, advice and resources from her department to meet the needs of the moment.
Margaret has been an Arm In Arm ambassador of impeccable character to so many community partners over the years. She has advocated for and received a lot for the members of our community who so often have not been heard. We owe thanks to Margaret as one of the key reasons for Arm In Arm's high reputation in Mercer County.
Margaret is undaunted in serving people in need and doing it the right way. To experience Margaret in her roles at Arm In Arm is to know someone who truly lives our Mission. Margaret's example simply, quietly, inspires us all to do more.
We wish Margaret much success in her new role and we will do all we can to build upon her work at Arm In Arm, even as we look forward to being a colleague of hers in a new way.