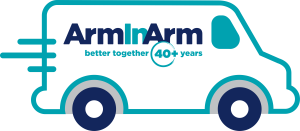 Arm In Arm Executive Director David Fox, together with the Arm In Arm Board of Trustees, is excited to announce Arm In Arm is moving their headquarters from 123 East Hanover Street in Trenton to Mill One at One Johnston Ave. in Hamilton as of October 1st.  Executive Director, David Fox shared, "Our board, leadership, and staff are all in agreement that this move will enhance Arm In Arm's work and increase our impact by providing better space for our services and administrative functions, and by providing a safe and welcoming environment for clients, staff and volunteers, which better embodies our values of dignity and hospitality. Arm In Arm's mission will remain unchanged as we continue to focus on securing basic needs of food, housing, and work to promote longer-term stability."
Arm In Arm will still be embedded in Trenton, continuing and enhancing their presence at 48 Hudson Street, where they have a food pantry, and at their Sustainable Garden at 119 E. Hanover Street. Fox said, "We intend to deepen our presence in Trenton through pioneering mobile delivery, using our new state of the art food distribution center at Mill One and new refrigerated truck. We will execute more off-site Grab 'n Go grocery events, which will enable us to reach community members in their own neighborhoods, at times that are convenient for them. Using data collected by the Trenton Health Team, we have already begun forging partnerships with institutions such as Capital Health and Mercer County College, to deliver food where the need is the greatest in a more equitable way."
Since the onset of the pandemic, Arm In Arm has seen an unprecedented increase in their level of service, and in fiscal year 2022 provided groceries and fresh food to families through more than 48,000 pantry visits and deliveries, which is more than double their pre-pandemic level. Fox continued, "We are serving more people than ever before, and our current home simply cannot accommodate the storage and efficiency needs we now have. Mill One will essentially operate as a 'distribution hub' and offer us more and better space for food storage, including a loading bay so our truck can load and unload easily, as well as space for volunteers to prepare bags for mobile delivery." Because Mill One will serve as a storage and distribution hub, clients will not come to Mill One for food, as is the case at Arm In Arm's other pantries in Trenton and in Princeton.
Mill One will also house Arm In Arm's Administrative Offices and include offices for their Housing Stability and Representative Payee programs. Fox shared, "We are actually downsizing our administrative space to provide more in service to our families. We have learned a lot during the pandemic and are incorporating more efficient, best practice use of space in which our staff will have safer, more professional space that they will share as they flex time between being in person and working remotely. Our Housing Stability Team will combine in person and virtual meetings to provide the most professional, compassionate and convenient ways to help families in need." Fox emphasized that while the Housing Stability and Representative Payee Programs mainly operate remotely, families will be able to come to Mill One, by appointment, to receive help with rental and/or utilities assistance and longer-term case management and/or for financial fitness, nutrition and parenting classes.
Arm In Arm's last day for grocery distribution at the East Hanover location will be on Thursday, September 22nd. They will resume distribution in the area on Tuesday, October 18th in the parking lot of Mercer County Community College's James Kerney Campus, on Academy Street, next to the library, where they intend to have a regular presence. Additional mobile pantry locations will be added and communicated. Clients in need of food can visit Arm In Arm's pantry at 48 Hudson Street on Mondays and Wednesdays between 9:30am and 1:00pm or their Princeton Pantry at 61 Nassau Street, by appointment, calling 609-921-2135 to schedule. Clients in need of rental, mortgage or utilities assistance, or who have questions can call 609-396-9355, x11 for additional information.
If you are a client looking for food please click here.
If you are a volunteer/donor looking for more information please click here.
Please contact Chief Development Officer, Maureen Hunt, at Maureenh@arminarm.org or call 609-396-9355 x15 if you have any question.