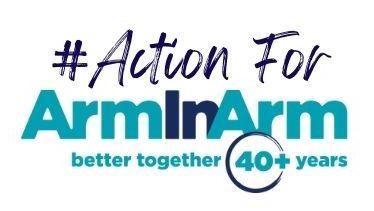 We have developed a new campaign this holiday season known as Action for Arm in Arm to challenge you and others to lend a helping hand and help us fight food insecurity. The best way to fight hunger is to take action against it! As we go into the holiday season, so many of our neighbors are struggling with poverty and food insecurity while we are still in the midst of a pandemic. With your help, Arm In Arm will be able to provide relief from food and housing insecurity this holiday season, so lets begin taking Action for Arm in Arm!
Action for Arm in Arm allows us to honor #GivingTuesday and #GivingTRENTON by encouraging generosity and persuading people to give in any way they can, whether that be through donating, volunteering, or running their very own food drive. We have set some goals to achieve this holiday season in order to help as many people as possible, especially after the pandemic has wrecked so much havoc on families worldwide and in our communities. Our goals include:
To collect

35,000

lbs of food to feed

2,500

families 
Log

1,500

Volunteer Hours 
Raise

$60,000

to provide groceries for

2,000

families 
How Can I Help Take #ActionforArminArm? 
There are many ways you can help us achieve these goals and take Action for Arm in Arm! 
Volunteer at a Pantry
Donate
Give Healthy Food Drive 
Run your own food drive 
Create your own #ActionforArminArm
Create Your Own #ActionforArminArm 
We want to see how you use your unique skills, talents and hobbies to make an impact! For instance–
If you love to run, set a mile goal and have your friends and family pledge money for each mile you complete;
Love to bake? Host a bake sale or take orders for baked goods to benefit the fight against hunger;
Challenge your colleagues and others to a food bagging contest in one of our pantries.
Share your challenge and challenge others, and be sure to tag Arm In Arm on social media. We encourage you to use your strengths and to be creative! No matter what action you decide to take, you are helping families to keep the lights on, have healthy food on the table and ultimately, lead more stable lives.
To brainstorm ideas and promote your unique campaign on Arm in Arm's social media pages, contact Maureen Hunt at maureenh@arminarm.org. We cannot wait to see what you come up with! To learn more about how to get involved this holiday season, please visit the Action for Arm in Arm page.