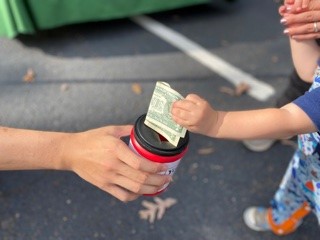 Below is a message from our friends Alison, Pat, and Kim from Yes We Can! 
Isn't the photo beautiful? … A young child giving a donation to a Yes We CAN! volunteer last Saturday ……  The photo illustrates the grass roots efforts of our three groups, Yes We CAN!, Arm in Arm and the WWCFM, coming together to help our neighbors in Princeton and Trenton.  Thank you, Pat …
Fall has arrived … the warm days of September and October have been wonderful, but oh my … the cool crisp days, with clear blue skies and the warm sun are so very welcome!  Our next food drive at the WWCFM will be on Saturday, October 30th and will include the Halloween Parade – always fun to see the kids, pets, and some adults festively attired!  It brings us all a level of joy … 
Though we often write about the West Windsor Farmers Market, we have left out the "C" for Community.  The generous visitors to the West Windsor Community Farmers Market have donated enough money to allow us to purchase 21,466 pounds of food this calendar year.  A volunteer often says, think of this as 10, almost 11 elephants lined up, each weighing 2 tons each!!  To give you another measure of how the WWCFM has helped the good people of Arm in Arm, we have purchased the following from the farmers, since July 1st: 18 boxes of collards, 8 boxes yellow squash, 23 boxes of cabbage, 22 boxes of cucumbers, 20 boxes of sweet potatoes, 7 boxes of white potatoes, 28 boxes of onions, 32 boxes of peppers, 29 bushels of corn, 19 boxes of carrots, and 104 bushels of apples.  
We have also welcomed the Girls Scouts and the bounty from their gardens, people who come with herbs or produce from their individual gardens and visitors who come with extra toilet paper, soup, cereal … and the list continues!  Their generosity is consistent and oh so welcome!
This sense of Community is what stands out when we think of the WWCFM .. friends greeting each other, young children dancing to the music, visitors to the Princeton area who come by and are dazzled by the bounty of the farmers, the beautiful flowers, along with a host of Artisan Food Makers.  It is an uplifting experience to visit the WWCFM. As volunteers, we have been humbled and amazed by the generosity of the people of the WWCFM.
Arm in Arm reports that in September, community members made a total of 3,900 visits to the three Arm in Arm pantries – one in Princeton and two in Trenton. On average, each household receives 3 bags upon each visit: 1 non-perishable, 1 fresh produce and 1 with frozen meat.  The fresh produce is a combination of donations from YWC!, and personal gardens as well as fruit and vegetables purchased by Arm in Arm …. It takes a big village to keep the bags full of food.  
As we approach the Thanksgiving season, we are joining the Arm in Arm Thanksgiving Food Drive and hoping that you might be able to support the Drive also, through individual donations, neighborhood food drives or perhaps work or school drives.  We will be at the WWCFM on Saturday, November 13 and Saturday, November 20 from 9:00 to 1:00.  Please feel free to drop off any items you collect.  If you think you will be bringing more than five boxes of food to the Market, would you please email Kim Kyte at kkyte76@gmail.com or Pat Foo at jfoo1@comcast.net to let them know?  We want to make sure that we make room on the van/truck for all donations.  Both Pat and I are available for any questions you might have.  Should you want to volunteer to help us at the WWFM (open 12 months a year), please contact Alison Politziner at A.Politziner@gmail.com.  
Following are two lists of items that will help the three Arm in Arm pantries stay full as we approach the holidays.  Arm in Arm receives a hefty donation of cranberry sauce, so no more is needed!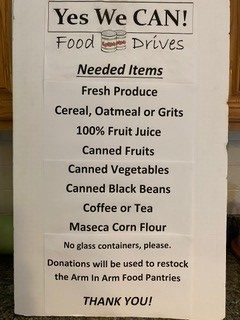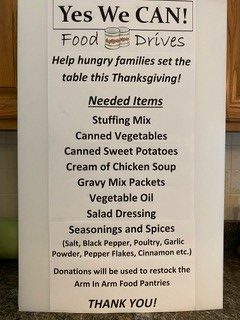 Enjoy the fall and thank you for the help you give,
Alison, Pat, and Kim