Brenda grabs a McCaffrey's grocery bag and doubles it up with a second. This grocery supply she is gathering for a family will be heavy, and she doesn't want the bag to break. She reaches out for a can of tuna, jars of peanut butter, a container of shelf-stable milk. She refills crates around her stocking station with rice, pasta, canned vegetables and fruit, and every other item she needs to fill her bags. Each bag she packs has 15 or 16 products and will be supplemented with a second bag of fresh produce, frozen meat, eggs, cheese, bread, and more.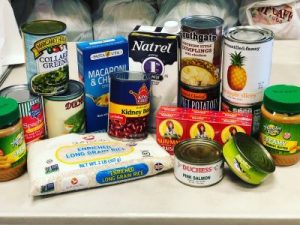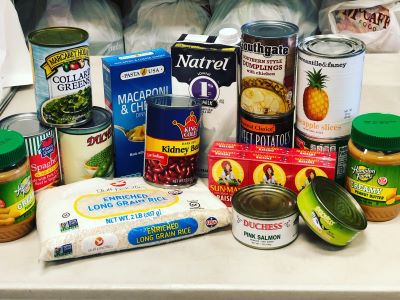 Brenda started volunteering with Arm In Arm's pantry nearly 6 years ago, initially visiting us as part of a group from another organization. "That was all it took for me to be hooked," Brenda muses. "I have always been about helping others, and this just touched my heart." She came back to volunteer on her own, and what started as one day a week quickly grew to four. This work "is so gratifying and humbling for me. I really feel like I'm making a difference. The more I help, the more it helps me, I think," she shares.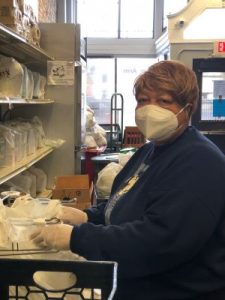 Since COVID-19 broke out, Brenda has seen firsthand the exploding rise in need in our community. While she worries about herself as part of the older generation, she simply can't ignore what she sees around her—and she can't give up her volunteering. "I haven't stopped coming to the pantry. I try to get there once or twice every week to pack bags to be delivered to homes, apartment buildings, and wherever else they're needed. Because they are so needed." And Brenda isn't focused solely on Arm In Arm. She continues her volunteerism with other organizations, collecting clothes like gloves for children and socks for nursing homes, collecting wigs for women going through chemotherapy, and playing (social distanced) Bingo with veterans. For her, keeping busy and caring for others is a way of life.
"There are so many families who are facing a burden too heavy to carry alone. We have to continue doing what we're doing," Brenda says without hesitation. "When this pandemic is over, our community will have even greater needs to get us back to a new normal. I believe in my heart Arm In Arm is a blessing to many; they allow me to be a blessing to others—and therefore, I am blessed."