My son and I were glad to have the opportunity to pitch in by delivering groceries from the Hanover Street pantry. Arm In Arm is functioning like a well-oiled machine, and when we arrived to pick up the groceries, they were already neatly packed, two bags per location, with a list of addresses and even a map to follow. It was so easy! I was also very happy to see that the food we were delivering was both nutritious and appealing – I felt confident that the recipients would be happy with it.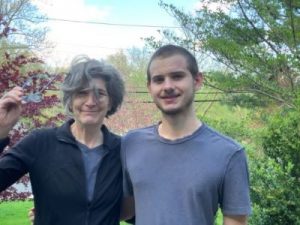 As my son and I drove from address to address, we met many of the people who were waiting for their deliveries to arrive. They were residents of senior centers, condo buildings, and apartments and houses all over the city – it was a real cross-section of Trenton. There are so few people on the streets these days, but many of those who were out and saw the deliveries gave us a "thumbs up." On one occasion, someone walking by asked where the groceries were coming from and, as I read out Arm In Arm's number to him, he was able to call and ask for assistance for his family too.
We are quarantining at the moment, but we will be back in a couple of weeks!