It was late March, and Arm In Arm was in the midst of launching 100% mobile delivery due to the growing COVID-19 crisis. Bullet shots rang out as I drove away from our pantry. I said a silent prayer in a time when many may be questioning a higher power. I said it anyway, because I know from personal experience that bullets have no name and  those shots can be fatal.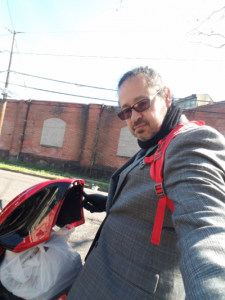 It's been a few weeks since those shots rang out, but I remember them so clearly. It's hard to forget as I walk out the door with bags of food on each arm, ready for delivery. My days mainly revolve around ensuring our Robbins Elementary School families have food—one less thing to worry about. Even 1 delivery to 1 family means that 1 household has enough to eat. When I drop off the 2 bags of food staff and volunteers have prepped, I am welcomed and thanked by all. But I can see the desperation in the eyes of some; 2 bags are not enough. After asking one family a few questions, I realize multiple families are living in this 1-bedroom apartment; we will leave them with a few extra bags, but uncertainty still lingers.
I spend a good portion of each day answering questions from students who did not receive the mandatory learning packet or do not have access to the internet to complete schoolwork. Trenton Public Schools ran short of materials, unable to provide all of their students with the necessary packets. Most of these children and their parents cannot afford the internet, a fact exacerbated by the skyrocketing unemployment rate. Many parents have been laid off, and their undocumented status makes them ineligible to collect benefits to support their families. Questions about schoolwork soon turn into fears that they will not be able to make rent or put food on the table. The struggle can be seen here with every interaction, every look, every word. Their resources are strained, and there is no end in sight.
Over the weeks, I have returned to several homes who do not have a phone. I check in on them to see how they are doing, only to find they have been evicted by landlords acting illegally—given the County moratorium on evictions and foreclosures through May. The law does not matter to some, and it sometimes fails to protect those who need it most.
Using social media and the parent network we have built through 2 years of our All Kids Thrive initiative, I find out where these displaced families are living. I bring them food and sit with them as they share with me the circumstances of the eviction. Most cases sound similar and all too familiar. Landlords have threatened them with an ICE raid and deportation. They are unaware of their constitutional right. They are scared. They are here to find a better life for their families. This is not how they envisioned their American dream.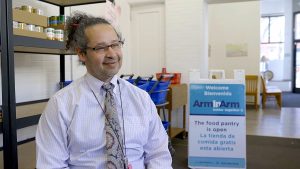 Amidst all the strife, I am reminded weekly the compassion and thoughtfulness of our community. I receive lists of resources from different staff members. I am sent names of families and children who need us from Robbins Elementary teachers. People across our County reach out to me, knowing Arm In Arm is here to treat them with dignity and respect. We can all fall on hard times. We all need a hand up. We cannot walk this life alone. There is no judgment at Arm In Arm.
The pandemic is ravaging our community, but it will eventually leave. What will be left behind? Some of our children will be homeless. Parents will be jobless. Security and stability will feel out of reach for so many families. One thing is for sure. We will need to face the trauma head on in order to recover.
I know we are going to overcome this and grow from it with the very same passion, commitment, and empathy that drives our mission as educators and service providers. I miss walking into our school and giving our students high fives with gratitude. We will get through this, together. And when we do, there will be no shortage of high fives.