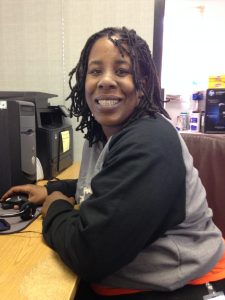 When Arm In Arm works with job trainees in our Workforce Development program, the ultimate goal is to see these men and women find stable employment or placement in career-advancing education. With hands-on experience, mentoring, and job-search support, our program members build stronger resumes and make themselves more prepared to enter the job market.
For six months, mornings spent assisting customers in our Client-Choice food pantries provide trainees with experience in customer service, inventory, and food handling while, at the same time, contributing to the welcoming atmosphere that Arm In Arm staff and volunteers strive for each day. Afternoons include time and resources to improve computer literacy with online learning platforms, job applications, and correspondence, as well as to pursue career-related education through online certificate courses in safe food handling and retail/customer service. Often we are joined by wonderful volunteers from area businesses and partner agencies who lead discussions of interview and job-search skills and offer workshops in financial literacy and credit counseling
Some participants also take advantage of our License to Succeed program wherein Arm In Arm provides administrative assistance and partial aid to pay fines and reinstatement fees and to establish manageable payment plans. As the only non-profit organization in Mercer County that provides license restoration assistance, we see time and time again that, with driver's licenses restored and fines and fees resolved, job prospects increase.
It's a full day!
Nothing is more gratifying than seeing our hard-working Workforce Development trainees succeed when their program comes to an end, although we miss them when they go. Armed with skills, potential, work ethic, and drive, they are well positioned to succeed. Arm In Arm has had the good fortune to bring several of them on board. Four members of the Arm In Arm staff of seventeen are former Workforce Development trainees. Accepting a variety of positions across our three programs, these colleagues have proven to be important and valuable Arm In Arm team members who contribute so much to our culture of caring and hospitality as they carry out our mission throughout the community. We are so lucky to have them.
Andre Gause:
"It's surreal for me. The path that I went through to get here was a long process and I honestly didn't think I would be here. I've had a diverse experience during my time in the workforce program. I learned people skills that I never knew I had, and self-confidence when it comes to speaking in front of a crowd  of  people I  gained experience in inventory control, time management, food  handling, and customer service to name a few. Believe in yourself because hard work really pays off."
Michelle McNair:
"Communication is one of the skills that I have developed in the years that I have been with Arm In Arm. It has taken me very far in my current position and I am very grateful for that. I am able to help people with information on how to handle everyday life situations, helping to provide food for their families and stay in their homes"