A recent community health survey by the Trenton Health Team showed that more than 40% of Trenton residents feel it's challenging to find fresh produce in their community. In some Trenton neighborhoods, that figure rises to 50%. Compare that to Mercer County as a whole, where only 16% of residents find it difficult to access fresh produce.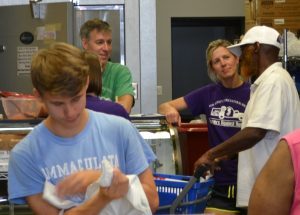 Compared to the rest of Mercer County, Trenton can be considered a food desert—an urban area in which it is difficult to find affordable or good quality fresh food. Together, we can change that. The Crisis Ministry is proud to be one of several organizations infusing our city with fresh produce by growing food in Trenton and partnering with farmers and grocers in the wider community. Collaborating with Yes We CAN! Food Drives, the West Windsor Farmers Market, Farmers Against Hunger,  and other organizations improves our clients' access to farm-fresh produce, while supporting local New Jersey agriculture.
In addition to delivering produce to the Crisis Ministry throughout the growing season, Farmers Against Hunger provides healthy food tastings at our East Hanover Street pantry.
"We want to make sure the recipients of our produce know how to enjoy the produce," says FAH nutrition educator Elyse Yerrapathruni. "Our partnership with the Crisis Ministry allows us to not only distribute the produce, but also teach nutrition and provide recipes."
For clients who like the tasting sample, Farmers Against Hunger provides the recipe and a grocery bag containing the ingredients necessary to prepare it.
"We're able to reach so many people in need in this way," says Brian Strumfels, FAH Produce Coordinator. "This is the perfect audience, because they're coming in to shop specifically to cook. If we can add fresh produce, everybody wins."
Mark Smith, our Director of Hunger Prevention and Nutrition Education agrees: "This wonderful collaboration brings a festive spirit to our pantry and helps create a sense of community. We are all in this together as we work to improve the quality of our service and hospitality for our neighbors in need."