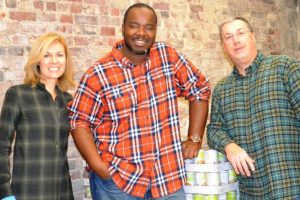 FOR IMMEDIATE RELEASE
CONTACT: Sarah Unger, 609-396-9355, ext. 15; sarahu@arminarm.org
UPDATE: Due to a snowy forecast, Arm In Arm has postponed a ribbon cutting originally planned for February 9 at 11:30 a.m. NEW DATE AND TIME: Thursday, February 16, at 1 p.m., at 48 Hudson St. All are invited. Light refreshments and brief tours will be provided.
Located at the corner of Hudson and Tyler Streets, Arm In Arm's newly relocated community food pantry and workforce development site will hark back to the building's years as a bagel shop and as a bakery. It has been unused since the mid-1980s.
"The environment is bright and welcoming, so it is a comfortable fit for Arm In Arm and our customers," said Carolyn Biondi, the nonprofit organization's Executive Director.
"Community members will visit Arm In Arm's pantries over 21,000 times in 2017 for food for themselves and their families," said Biondi. "We look forward to welcoming our first pantry visitors to this location Monday morning, February 13."
Arm In Arm's other locations are 123 E. Hanover St. in Trenton and 61 Nassau St. in Princeton (in the lower level of Nassau Presbyterian Church)."
Poster art by second and third grade students at Robbins Elementary School will decorate the space.
Arm In Arm is a 501 (c) 3 nonprofit organization. Founded in 1980, it provides 11,000 people across Mercer County with food, housing assistance, and job support.
Visit www.arminarm.org or call 609-396-9355, ext. 15, for more information.