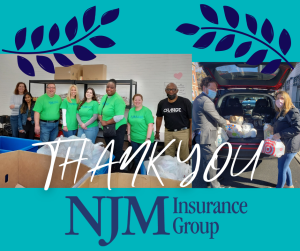 NJM Insurance Group has been a valued and trusted partner to Arm In Arm for more than 10 years, helping us to make a positive impact in our Mercer County community. Just last week we welcomed NJM employees to our Hudson and Hanover pantries and they assisted with packing and distribution of groceries to feed approximately 400 individuals and families. During their recent food drive in support of our Valentine's for Food initiative, they collected 380 pounds of food. Food drives like this, combined with their 'hands-on help' in our pantries, as well as their generous financial gifts in support of our impactful programming, help to ensure that Arm In Arm has the resources, the hands, and the hearts to serve our community members.
Jeff Richardson of NJM's Corporate Giving team, a frequent Arm In Arm volunteer, and Steering Committee member on Arm In Arm's NextGen Council shared, "Arm In Arm is a mainstay in our local community – providing critical services to our neighbors in need. We applaud the organization's efforts to alleviate hunger, provide housing support, and strengthen workforce development skills for an increased number of clients. As needs have risen sharply during the pandemic, the terrific staff at Arm In Arm has consistently answered the call."
Thank you NJM for all you do for Arm In Arm and our community!