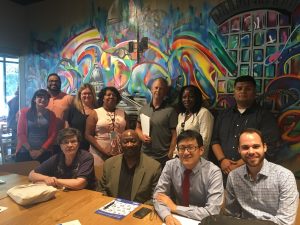 TRENTON, NJ (October 15, 2019) – When Arm In Arm's Community Engagement Coordinator Calder Burgam attended a Census-related event through the Princeton Area Community Foundation (PACF) in July 2019, he was intrigued. The statistics were staggering: Trenton was one of the hardest to count populations in 2010, with just 59% of Census forms returned. With such a poor showing, New Jersey's last Census left billions of federal dollars on the table for its residents, less representation in Congress, and hurt our ability to make decisions based on sound data.
Burgam knew 2020 had to be different. Trenton is a city in need, and those dollars could mean the difference between struggling and thriving to everyday Trentonians. Tackling a leadership role meant Burgam would go on to organize a Trenton Area Nonprofit Complete Count Committee of representatives from nearly 20 partner nonprofits, including LALDEF, Children's Home Society, and Henry J. Austin Health Center. Burgam was up for the task, and so was Arm In Arm.
This month, Arm In Arm announced the launch of Community Matters, a new 3-part lecture series dedicated to education that inspires action. The first in the series, Community Matters: Making Trenton Count, will focus on the importance of 2020's Census and how leaders in our community can ensure an accurate count. "Arm In Arm has made the Census a priority because we know that a complete count is critical to our community's well-being. Every year, federal spending for programs such as Medicaid, SNAP (food stamps), Section 8 (low-income) housing, and school lunches are distributed based on Census data," says Carolyn Biondi, Arm In Arm's Executive Director. "Since the Census occurs just once every 10 years, our success will have a major impact on the community for the next decade."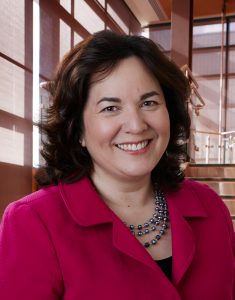 Community Matters: Making Trenton Count is scheduled for Thursday, November 14, 2019 from 5:30 – 7 pm at TESU's Pruitt Hall. Burgam will be moderating a panel featuring Advocates for Children of New Jersey's Peter Chen, The Fund for New Jersey's Kiki Jamieson, and East Trenton Collaborative's Shereyl Snider. As Jamieson points out, "Being counted in the Census builds influence and brings financial resources to New Jersey. Being counted affirms the importance of every single resident. Being counted is a powerful way to be recognized."
Arm In Arm's new Community Matters lecture series aims to bring together leaders passionate about the issues facing our area, raise awareness, and build connections that create sustainable impact for our community. Each part in the series will tackle a topic connected to Arm In Arm's 3 pillar programs: food, housing, and job support. Sessions are free of charge and scheduled for November 2019 (Census), February 2020 (food insecurity), and May 2020 (housing instability or workforce development, TBD).
"The 2020 Census affects us all, and Arm In Arm is proud to create a space where thought leaders can come together to become change-makers," says Biondi. "This work is critical for a strong Trenton and a thriving Mercer County."
To learn more about the Community Matters series, read panelist biographies, and register for upcoming sessions, visit www.arminarm.org/communitymatters.
---
About Arm In Arm
For nearly four decades Mercer County families have turned to Arm In Arm for essential resources like food and financial support. Formerly known as The Crisis Ministry, Arm In Arm was founded in 1980 by leaders of Nassau Presbyterian Church and Trinity Church in Princeton to help community members who were struggling financially. Today twenty staff members and hundreds of volunteers welcome more than 4,000 families to our food pantries, work with 600 at-risk families to prevent or end homelessness, and offer on-the-job training and job search mentoring every year. Arm In Arm believes it takes our whole community to ensure that everyone thrives—and when everyone is thriving, we all benefit. Learn more at www.arminarm.org.
####
Media Contact:
Jenn Johnston
609-462-3910
jennj@arminarm.org
Trenton Area Nonprofit Complete Count Committee Contact:
Calder Burgam
609-396-9355 x35
calderb@arminarm.org