TRENTON, NJ (December 5, 2019) – Arm In Arm, a leading Mercer County-based nonprofit organization providing essential support for neighbors in need, is proud to announce David R. Fox, Ph.D. has been named its new Executive Director.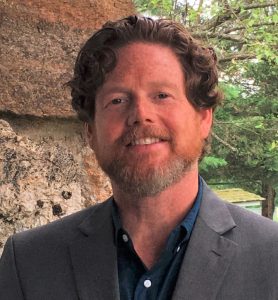 Dr. Fox, a seasoned nonprofit professional, comes to Arm In Arm with a wealth of knowledge and extensive background meeting the needs of underserved communities and at-risk youth and families. He has been in the field of human services for twenty years, leading and fundraising at organizations across New Jersey. He is dedicated to building and strengthening relationships with every constituent, including clients, staff, volunteers, board members, and donors. Fox holds Ph.D. and Master of Philosophy degrees from Drew University, as well as a Master of Divinity degree from Princeton Theological Seminary and a Master of Theology from St. Vladimir's Orthodox Theological Seminary. He also holds a Certificate in Executive Nonprofit Leadership from Fairleigh Dickinson University.
Fox shares, "Throughout my career, I have been privileged to witness the transformation of many lives through simple acts of compassion—people coming together to help each other. In the last couple of months, I have gotten to know many of the stakeholders at Arm In Arm and found it to be an incredible organization: compassionate, smart, and eager to do more. I am excited to join the Arm In Arm team in serving people who need a helping hand with the basic necessities, and to learn more from those we serve to better meet their needs. Thanks to Carolyn's leadership and the work of the entire Arm In Arm community, we are entering a new decade of incredible opportunity."
Fox's hiring follows the departure of long-time Executive Director Carolyn Biondi. During her nine-year tenure, the organization rebounded from a devastating fire in 2011 to a period of unprecedented growth which resulted in Arm In Arm nearly doubling its service levels. Biondi says, "It has been an honor and a privilege to serve our community. I am delighted that David will be leading Arm In Arm and furthering this critical mission in the years to come." Following Biondi's departure, dedicated staff members Margaret Cowell and Cynthia Mendez were appointed Interim Co-Leaders.
"We are thrilled to welcome David to our dynamic team," says Nick Valvanis, Arm In Arm Board Chair. "Carolyn created a pathway for our organization to dream bigger, and we are ever grateful to her for helping us envision a brighter future for our community. David will expand upon what Carolyn and the team at Arm In Arm have built, bringing to the role a tremendous combination of energy, sensitivity, and proven dedication to the challenges of working with people in crisis. We are excited to see where David's leadership will take us as we begin this next chapter."
Since 2012, Fox has served as Director of Development at Bonnie Brae, the New Jersey school and residential treatment center which serves boys and young men in crisis with comprehensive care and education to transform their lives. Prior to Bonnie Brae, Fox held positions of increasing responsibility at Covenant House, an organization providing shelter and supportive services to young people facing homelessness.
Ken Barbuscio and Peter Fasolo served as co-chairs of the Board-led Executive Director Transition Committee. Barbuscio states, "The selection of David as the new Executive Director of Arm In Arm is the culmination of a months-long process that included qualified candidates from across the region." Fasolo adds, "David was our first choice, and the Committee is confident he will be a fantastic addition to Arm In Arm and the Mercer County community."
Fox will assume the Executive Director position at Arm In Arm in January 2020.
Arm In Arm partnered with The Munshine Group, a New Jersey-based consultancy firm focused on nonprofit fundraising, communications, strategy and implementation, to identify its next leader.
---
About Arm In Arm
For nearly four decades Mercer County families have turned to Arm In Arm for essential resources like food and financial support. Formerly known as The Crisis Ministry, Arm In Arm was founded in 1980 by leaders of Nassau Presbyterian Church and Trinity Church in Princeton to help community members who were struggling financially. Today twenty staff members and hundreds of volunteers welcome more than 4,000 families to our food pantries, work with 600 at-risk families to prevent or end homelessness, and offer on-the-job training and job search mentoring every year. Arm In Arm believes it takes our whole community to ensure that everyone thrives—and when everyone is thriving, we all benefit. Learn more at www.arminarm.org.
####
Media Contact:
Jenn Johnston
609-462-3910
jennj@arminarm.org