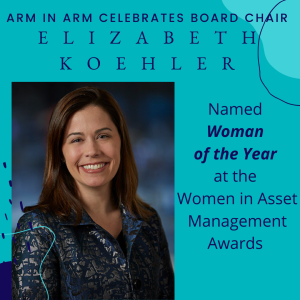 Arm In Arm is proud to share that Board Chair, Elizabeth Koehler, was recently named Woman of the Year at the Women in Asset Management Awards. According to DiversityQ, Liz "has been applauded for a host of powerful reasons which have made her the deserving winner in our judges' eyes. 2021's Woman of the Year is both a fierce, strong, driven leader, and an authentic, empathetic collaborator. Her ability to create safe spaces for open conversations has been a shining light this past year, motivating her team, and giving herself the capacity to truly seek the best in others. She is vehemently working towards a diverse and equitable financial services industry, by platforming others' voices ahead of her own. Congratulations Elizabeth for winning our Woman of the Year award!" To read more about the awards and this honor, click here.
In addition to this honor, Liz was recently featured on the podcast, Her Success Matters, presented by Christine Shaw. According to Her Success Matters, "the conversation highlights the sheer importance of women helping other women and a reminder to lead with empathy and compassion. Elizabeth (Liz) Koehler leads by example in the workplace at BlackRock, where she heads the Advisor Insights team, promoting women to, "take the stage" and own their voice, as well as being a mentor and sponsor to many. Liz is vehemently working toward a diverse and equitable financial services industry by exuding authenticity and embodying integrity. Tune in to this episode to hear Liz's life hacks, tips and tricks and how she juggles it all."
A member of Arm In Arm's Board since 2018, Liz has served as Vice Chair and in September, moved into the role of Board Chair. She continues to provide thoughtful, impactful leadership as Arm In Arm moves through its strategic planning process. She has also been instrumental in cultivating relationships and fostering involvement with members of the BlackRock community. Congratulations to Liz! We are so thankful to have her leadership at Arm In Arm.