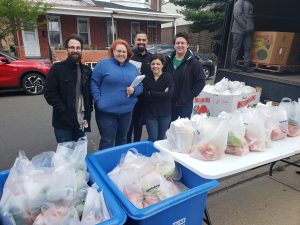 Arm In Arm was thrilled to receive a generous donation on behalf of Starbucks as part of their Neighborhood Grants program.
The Neighborhood Grant focuses on supporting organizations that provide essential needs and services that impact the community. Arm In Arm was nominated by Starbucks of Bordentown, and swaselected to be recognized out of a group of over 7,000 potential recipients.
Since 2015, local Starbucks employees have volunteered their time supporting Arm In Arm's Hunger Prevention and Workforce Development programs. Starbucks employees have: assisted community members with their shopping trips in the food pantries; coordinated food drives; bagged groceries for distribution; and provided volunteer and financial support of a Free Fresh Produce Event, and Grab 'n Go in the community. Prior to the onset of the pandemic, they also assisted Workforce Development clients with mock interviews and job searching. Early in the pandemic, when Arm In Arm had an urgent need for volunteer support, Starbucks answered the call and their volunteer efforts proved critical to our ability to serve our neighbors.
Arm In Arm is grateful to the entire Starbucks team for their support of our mission, and for their assistance in helping our community thrive.