Natalia joins us from Princeton University via San Diego, California. When applying for summer internships, Natalia was focused on connecting with Mercer County in order to build community here in New Jersey. She read about the work Arm In Arm is doing to combat hunger and homelessness, and she excitedly applied through the Princeton Internships in Civic Service (PICS) program.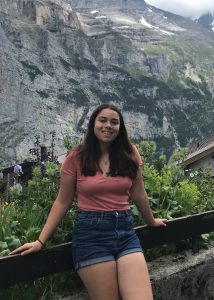 Working from her hometown in California as one of Arm In Arm's Hunger Prevention Program Assistants, Natalia has been doing remote data analysis and visualization. She has called both English- and Spanish-speaking clients to conduct outcome studies in order to support Arm In Arm's transition back to in-person pantry visits.
Natalia first became interested in homelessness prevention work during a debate in high school. As she researched affordable housing, she began to think more deeply about the roots and possible solutions to homelessness in the United States. She also learned her hometown has the fifth highest population of people experiencing homelessness in the country. Since then, Natalia has worked with the state government and with local organizations to address housing and resource accessibility to community members in need.
Now going into her sophomore year at Princeton, Natalia intends to formally declare her major in either Philosophy or Politics while working towards a double minor in Latin American Studies and Values and Public Life. She is also an active competitor on the University's debate team, is in charge of communications for Princeton College Democrats, writes puzzles for the annual Princeton Puzzle Hunt, and tutors elementary and middle school students through HomeFront. 
Throughout the pandemic, Natalia has been cooking, reading, playing Animal Crossing, and advising a group of high school fellows through a college accessibility nonprofit called Matriculate. Passionate about good books, ethics, educational equity, and affordable housing, Natalia plans to attend law school after graduation and continue to serve the community as an attorney.
Hope hails from Stockton, NJ and is a rising senior at TCNJ, where she majors in Sociology with minors in Psychology and Fine Art. Hope initially connected with Arm In Arm as a freshman  volunteering in our food pantry. When she learned Arm In Arm was accepting interns, she applied, excited at the prospect of working for an organization whose mission statement she so deeply believes in.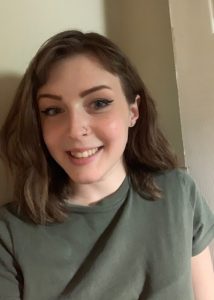 As one of Arm In Arm's Hunger Prevention Program Assistant, Hope contacts clients to facilitate food deliveries, readies groceries for delivery at the Hanover Pantry, and assesses data. Her work has emphasized assessing the functionality of the Mobile Pantry system as well as assisting staff and clients in a smooth adjustment as we look to return to in-person food pick-up.
Hope is passionate about bettering the world; she is particularly interested in addressing food security because of the pervasive nature of hunger. This interest began for her in early elementary school, when she and her mother would make and bring food to a neighbor who was struggling to put meals on the table. As a volunteer and intern, Hope has been able to continue the hands-on service that she began in her childhood. Her most memorable experiences have been interactions with clients.
An active and creative person, Hope loves to run, paint, garden, and hike. Throughout the pandemic, she's been taking care of her garden and trying to do at least one creative thing per day. As she looks forward to graduation, Hope wants to work with organizations like Arm In Arm, utilizing her skills in art, sociology, and psychology to uplift her community.
Alex comes to us from TCNJ as she enters her senior year. Alex was raised in Hopewell, and as a resident of Mercer County and frequent volunteer in Trenton, she was somewhat familiar with Arm In Arm before applying. Arm In Arm's values of accessibility and community solidified Alex's desire to work with our team.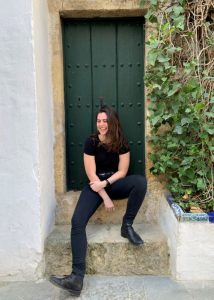 As Arm In Arm's first ever Communications and Development Intern, Alex spends her time researching and creating social media content, assisting with grant and donor relationship-building, and designing our webpages while also assisting with hands-on service at the pantries.  
Alex is a double major in Journalism & Professional Writing and Women's, Gender, and Sexuality Studies with a Spanish minor. At TCNJ, she is a part of the Women's Rugby team, for which she has managed social media and played as number 8 and flanker. She has also written for and managed social media for the campus weekly newspaper, The Signal.
She participates in TCNJ's Bonner Institute, a national, student-development and civic service organization. Through this program, Alex has spent over 1,000 hours in Trenton, mainly working as an ESL tutor for Spanish-speaking adults through Catholic Charities' El Centro, and as the lead student volunteer at Latin American Legal Defense and Education Fund, assisting in capacity-building work, client advocacy appointments, translations, and more.
She spent the last half-semester studying in Alcalá de Henares in Spain, where she stayed with a host family and took classes at the local university. When the pandemic struck in Spain, she flew back to the US and finished the semester online. Since then, she has spent her time drawing, watching Netflix, and lifeguarding at her area pool where she has worked as a swim coach for the last six years.
Alex is excited to be doing passion-fueled work at Arm In Arm. After graduation, she aims to put her communications skills and understanding of systemic issues to work with a local organization to amplify the voices of the Trenton community.