It's one thing to hear the latest unemployment rate on the news or read stories about the devastation caused by the coronavirus. It's another thing entirely to hear firsthand from hundreds of neighbors struggling to make ends meet. For Arm In Arm staff members serving as the first point of contact for people in need of help, that experience has been both challenging and rewarding.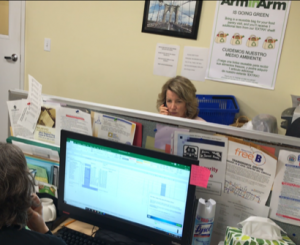 "I am overwhelmed at all the calls I get each and every day since the COVID-19 outbreak," shared Michelle, who is no stranger to taking client calls as Arm In Arm's receptionist. "I can hear in their voices how concerned they are about being able to feed their families right now."
With such a dramatic increase in the depth and breadth of need in our community, it can feel as though current relief efforts are insufficient. "I guess I've been trying to keep focused on the fact that something is better than nothing, and while it may not always feel that our efforts are super impactful during this time, sometimes the best we can do is to give someone the knowledge that they are not alone. We've done that in many cases," said Lisa, one of Arm In Arm's Homelessness Prevention Coordinators who has moved to assisting with food distribution in the wake of the outbreak.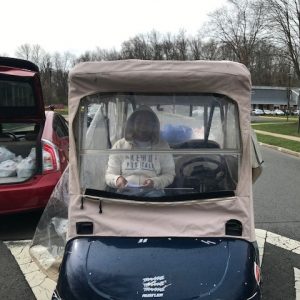 "There have been a couple cases where we've received calls and been able to make deliveries relatively shortly to senior-citizens who have just been released from hospitalization unrelated to COVID-19 and seem to be very alone," Lisa elaborates. "It's mind-boggling that someone would be delivered to their home with no plan for future nutrition – especially in this environment – but the story holds water: when I show up at the door, an old man shuffles out with his walker to collect his bags."
Michelle, Lisa, and other staff members have also served as a resource hub for callers. According to Homelessness Prevention Coordinator Vanessa, "We have been giving clients the most updated info and resources available to Mercer County and New Jersey residents, including strategies on how to lighten the burden and available options they may have. Many people are happy that we are still communicating in different forms and updating our information as much and as soon as possible."
Finding hope in each day's small victories can be difficult when there is so much to be done. Still, it continues to be a privilege to serve. "I'm thankful for this work and for the humanity we share with our clients every day," said Lisa. That sentiment is shared by everyone at Arm In Arm, no matter who is answering the call.