I'm used to being in the trenches. I'm used to interfacing with the clientele up close and personal. Now everything is so spread apart and so far distanced. I mainly deal with the homeless population and those that are underserved. With social distancing, I barely see anyone. Very seldom do I get a call, because most of the clientele I deal with don't have access to telecommunications or they would rather deal person-to-person. It has definitely created a separation and almost a separation anxiety.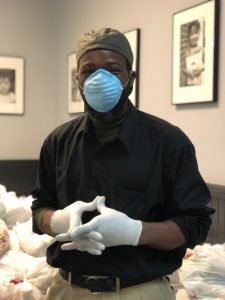 I have run into some individuals that I served before this crisis hit and just to be able to interface with them now is almost like a kid waking up Christmas morning and opening his presents. It's an excitement and happiness knowing that people are still conducting their lives the best that they can.
Life has become more challenging for many of our clients. Everything is over the phone, email, and text. There's no drop-in center for our clientele now. For the population that I deal with, it's more or less a panic because they are used to being able to talk with someone and getting an answer right back. People want to hear that voice and see that face. It puts them at ease. With everyone working remotely, it can make the clientele feel a bit lost.
I'm from the city. I was born and raised here. And I can see that people are worrying. What I get is that they feel that all is lost. I find myself, over and over, trying to keep them comforted. But there's not an exact date I can give as to when things will be back to normal. A lot of the centers where our clientele would gather and socialize are closed. There were places where people could feel like they were conducting their lives in a regular fashion, for a lack of a better way of putting it. Without that, it leaves everyone at a standstill and uneasy about what comes next.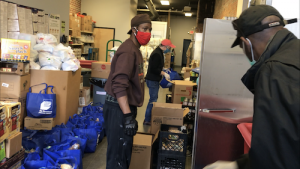 What I would say, though, is that organizations such as Arm In Arm are doing a phenomenal job of keeping hope alive through the work that's being done. Because people come in day in and day out to pack bags, to make food packages, and actually go out and deliver. It's phenomenal. I remember being in that situation at one point in time, where I was not as fortunate as I am now. Not knowing where the next meal was coming from or where to go for services. I just feel that this organization is doing a phenomenal job with that.
One last thing I would say is that all hope is not lost. This is the time where we can all pull together and strive for the better. Keep each other calm and at ease and do what we can to encourage. This is the time for as much positive reinforcement as ever.