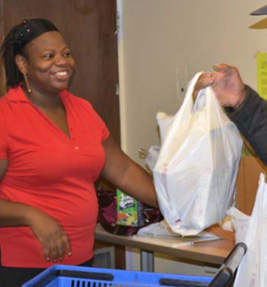 A manager for 10 years at a telecommunications company, Christina was laid off from her job and is glad that the Crisis Ministry is here for her during a difficult time.
Thanks to back rent assistance from our Homelessness Prevention team she and her children remain in their apartment.
Through the Crisis Ministry's Client Choice pantry, she has access to healthy food for her family.
Though Christina is busy seeking employment and caring for her children, she makes time to volunteer for the Crisis Ministry. Equipped with excellent customer service skills honed during her years as a manager, she shares her naturally friendly manner with clients and, as a speaker of four languages, can jump in when needed to translate from Spanish, Creole, or Portuguese.
"The Crisis Ministry has helped me and a lot of people in the community," Christina says. "When I first came here for help, I was under so much stress with my eviction notice. But I was told, 'Don't worry, it's going to work out.' I am treated well here. There is always a smile to welcome me."