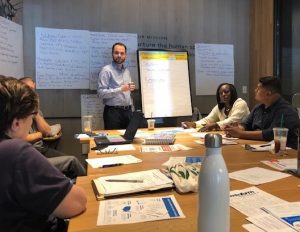 Arm In Arm's new Community Matters lecture series aims to bring together leaders passionate about the issues facing our area, raise awareness, and build connections that create sustainable impact for our community. Each part in the series will tackle a topic connected to Arm In Arm's three pillar programs: food, housing, and job support.
The first event, Community Matters: Making Trenton Count, will focus on the importance of the 2020 Census. Every year, New Jersey receives nearly $23 billion in federal funding based on results from the 2010 Census. These funds support programs critical to the health and well-being of our community, including Medicaid, food stamps, Section 8 Housing Vouchers, and the National School Lunch Program. Join us on November 14 to learn how you can help ensure our community receives the resources it needs in the decade to come.
Arm In Arm will host additional lectures in February and May focused on food insecurity and homelessness, respectively.
Thursday, November 14
Refreshments and Networking: 5:30pm – 6:00pm
Panel Discussion: 6:00pm – 7:00pm
Thomas Edison State University, Pruitt Hall
301 W State St, Trenton, NJ 08618
Presented in partnership with

Kiki Jamieson, Ph.D., is President of The Fund for New Jersey, which works to improve the quality of public policy decision-making on the most significant issues affecting the people of New Jersey and our region.
Previously, Jamieson led the Pace Center for Civic Engagement and taught in the Politics department at Princeton University, and before that at the University of Pennsylvania, Haverford College, and Rutgers University. The author of Real Choices: Feminism, Freedom, and the Limits of Law, she was a visiting scholar at the Institute for Advanced Study.
Jamieson chairs the board of the New Jersey Council for the Humanities and is a trustee of Bryn Mawr College and the Council of New Jersey Grantmakers. She is a graduate of Bryn Mawr College and Rutgers University, and has two children.
Peter Chen is policy counsel at Advocates for Children of New Jersey. His work includes coordinating non-profit and community-based organizations on Census outreach in 2020. In addition to Census work, Chen is responsible for policy analysis and advocacy at the state and local level, in areas such as childhood lead poisoning prevention, chronic absenteeism, paid family leave and early intervention services for very young children with disabilities. Chen began working at ACNJ as a 2014 Skadden Fellow. Prior to joining ACNJ, Chen clerked for Chief Justice Shirley Abrahamson of the Wisconsin Supreme Court and taught high school English in Chicago. He received his J.D. from Yale Law School, and his B.A. from Indiana University-Bloomington.
Shereyl Snider joined ETC in 2019 as a Community Organizer. Snider is a long-term resident of the East Trenton neighborhood, but is originally a New Yorker who moved to Trenton in 2003 to take care of her father. Her  responsibilities with ETC include outreach, resource and referral, leadership development, and organizing issue-based campaigns with residents.
Calder Burgam is the Community Engagement Coordinator at Arm In Arm and Chair of the Trenton Area Nonprofit Complete Count Committee. In addition to his Census effort, Burgam works with schools, businesses, service organizations, and the faith community to ensure everyone has their basic needs met.
Thank you to our sponsors!
Community Matters is a free event. Please consider making a donation in support of our mission.